Needle Felted Dogs
- Collectible dog figurines by Olga Timofeevski -
About These Dogs * Slideshow * Featured art * Custom Orders * Dogs by Breed * Currently Selling
| | | | | | | | | |
| --- | --- | --- | --- | --- | --- | --- | --- | --- |
| | | | | | | | | |
| Bubba | Tami | Lucy | Toby | Snowball | Honey | Copper | Admiral | Maybelle |
| | | | | | | | | |
| --- | --- | --- | --- | --- | --- | --- | --- | --- |
| | | | | | | | | |
| Salt and Pepper | Mimi | Bronson | GR | GR Puppy | Chubby | Prince | Arnoldaina | Queenie |
| | | | | | | | | |
| --- | --- | --- | --- | --- | --- | --- | --- | --- |
| | | | | | | | | |
| Lolita | Nina | Sara | Casper | Randolph | Laina | Monty | Freddie | Joy |
| | | | | | | | | |
| --- | --- | --- | --- | --- | --- | --- | --- | --- |
| | | | | | | | | |
| Sherlock | Woody | Frankie | Uggie | Ol Olivia | Rosie | Coco | Bonita | Sydney |
| | | | | | | | | |
| --- | --- | --- | --- | --- | --- | --- | --- | --- |
| | | | | | | | | |
| Stanley | Monette | Bella | Nika | Koral | Little Bom | Bom | Lulu | DaisyDaisy |
Allie the Collie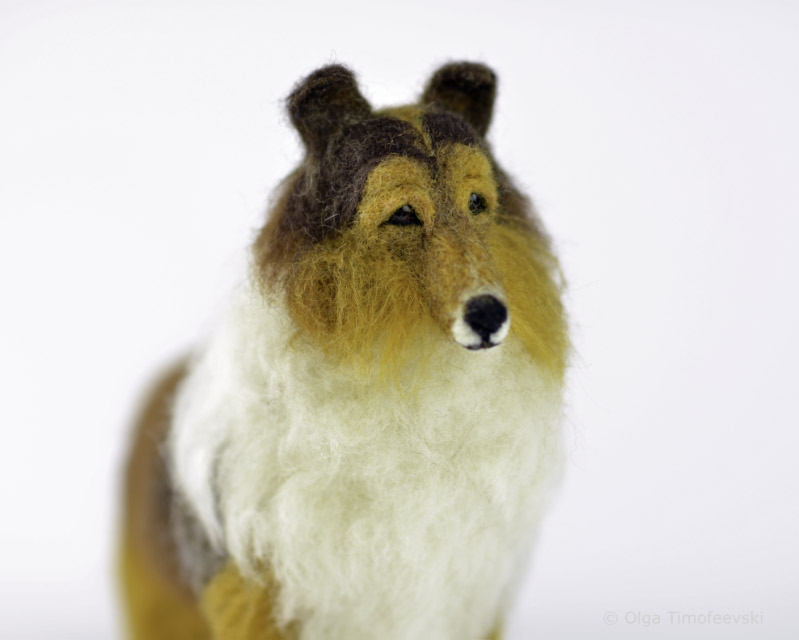 $249, eBay #262753161567
Koral the boxer puppy (life-size sculpture)

$699, eBay #262753132751
Public's choice award in the category Small "Friend", announced at the Teddy Bear Artist Invitational in Binghamton, N.Y., in August 2013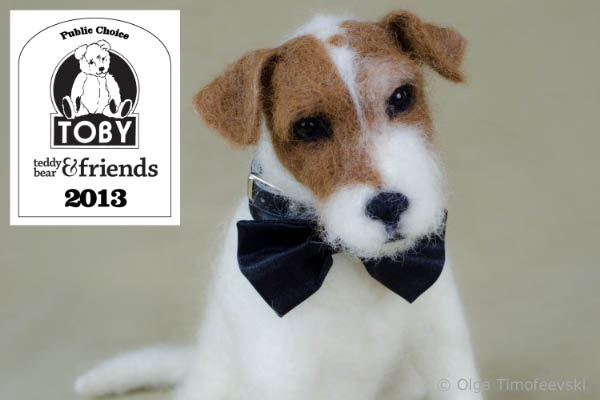 Uggie the Jack Russell Terrier
from the French romantic comedy-drama film The Artist (2011)
       These artworks were nominated in the categories Small "Friend" (Uggie) and Bear or "Friend" using Nontraditional Materials (Olivia)
- Teddy Bear & Friends Magazine
       These artworks received nominations in the categories "Artist Creation, Nontraditional Materials" (Mimi) and "Small Artist "Friends" (Lolita)
    - Teddy Bear & Friends Magazine
Welcome to my gallery of collectible dog figurines handmade of wool!
All needle felted dogs displayed on this Web site are one of a
kind (OOAK), handcrafted with love and great care. Not only can needle felting with wool produce striking details, but it also brings the statue to life, gives it a soul, and allows that warm cozy feel. These dog figurines are made entirely of wool roving, usually including eyes, nose, mouth, paws, etc. No filling materials are used, and no stitches are applied. Some dogs in this gallery can be posed thanks to a reinforcing, flexible metal wire inside. The dog's body, head, and legs are pressed by felting needles until they are very firm (hard felted). The snout and other body details are also finely shaped by felting needles, and finishing layers are added until the dog figurine resembles a given dog breed with its body profile, coat texture, colors, and facial features. The eyes are either needle felted (in most cases) or glass. The coat of long-haired dogs is created by either combing or implanting wool fibers. Achieving a lifelike feel, the look, and behavior of an individual dog in a woolen dog figurine is artistically challenging and can take weeks to accomplish. The dog statues on display range are 4 to 10 inches tall (10-25 cm), and are the artist's genuine and original work. Firmly felted and durable, these needle felted dogs are nevertheless lightweight. The statues in this collection are exquisitely made and make fine and truly unique collectible items. View a humorous slideshow "Needle Felted Dogs Tango" of some of the dogs from this gallery.
A custom needle felted dog figurine is intended to resemble and honor "that very dog". Although the real dog can never be fully replaced, a warm feel and look of the felted likeness of someone's beloved dog could be of much sentimental value and a source of lasting affection for the dog owner. Custom projects were completed by the artist for multiple dog breeds, including Jack Russell Terrier, Wire Fox Terrier, Pembroke Welsh corgi, Shih Tzu etc., also mixed breeds (e.g. Pointer/Labrador/Border Collie). For a sample of custom made collectible dog figurines (with a reference dog photo) please visit the page dedicated to custom needle felted dogs. See more breeds in the gallery (currently over 45 dogs of more than 25 breeds and breed combinations) and do not hesitate to ask if you do not see a breed of your interest for a custom project.