"That Very Dog" - Lifelike figurines of real dogs
Jump to: Ordering options * Pricing * Dog breeds * Slideshow

Needle felted Uggie (Jack Russell Terrier) from the silent movie "The Artist".
A woolen likeness sculpture (left) of the award winning dog actor, Uggie, shown in his role as "Jack" in this still image (right) from the movie trailer. You can search Google images for "felted Uggie" for additional comparison with the real dog (see a snapshot from March 2012). The sculpture of Uggie was created from fleece wool, Merino wool, Alpaca wool and mohair and measures to be 5 × 10 × 8½ inches (21 × 25 × 12 cm). See more pictures of this Uggie's sculpture here.
This felted figurine of Uggie won a 2013 TOBY Industry's Choice Award by Teddy Bear & Friends Magazine in the category Small "Friend".
f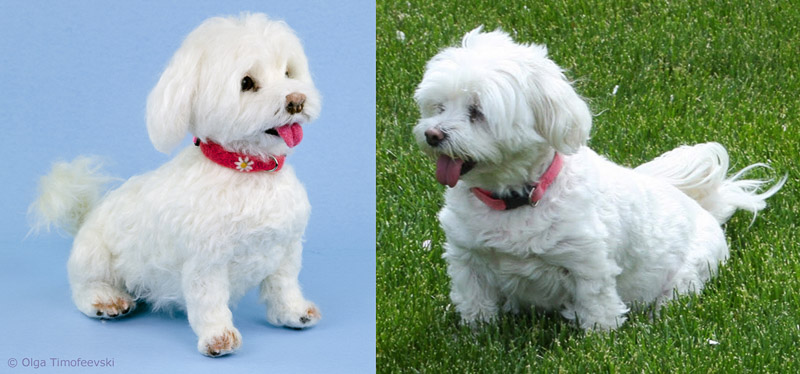 Custom needle felted sculpture of Daisy (Maltese).
The wired base was needle felted with core wool. The coat was created from alpaca, Merino and Merino-silk blend wool. The glass eyes were hand painted. The figurine was adorned with an embellished handmade collar. Ina sitting position, this art piece measures to be 6 x 12 x 11 inches (15 x 31 x 28 cm). For additional views click here.
"WOW! You made our holiday! She looks just like Daisy! ...Your workmanship and attention to detail is incredible." (Mary N., New Hampshire, U.S.)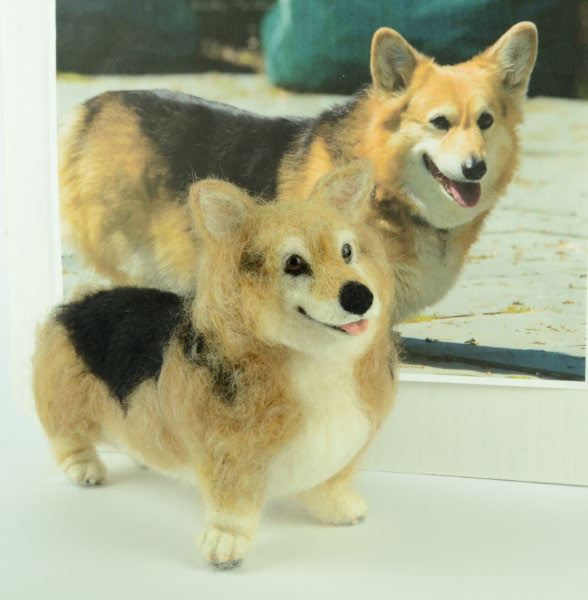 Custom needle felted figurine of Woody (Pembroke Welsh Corgi).
The figurine's base was made of Merino wool. Undercoat was made of mohair fiber. The coat was created of layers of undyed wool roving, silk roving, Merino / silk blend, and mohair locks. The figurine has a wire to maintain structure and allow the dog to be posed to a certain degree. The eyes are made of glass. Dimensions: 3½ x 8½ x 6 inches (9 x 23 x 15 cm). See more pictures of this figurine here.
"Woody looks absolutely wonderful!! His feet are so adorable, and his stance is perfect... It looks so incredibly much like him. You have not only matched his physical features, but somehow you have captured his essence... Extraordinary rendering of Woody! Complete with the splayed feet, swayed back, perfect coloring, proportions, and facial features, including the bridge of his nose fur! It is a remarkable keep sake, what wonderful craftsmanship and quality!" (Sue and Hugh S., Massachusetts, U.S.)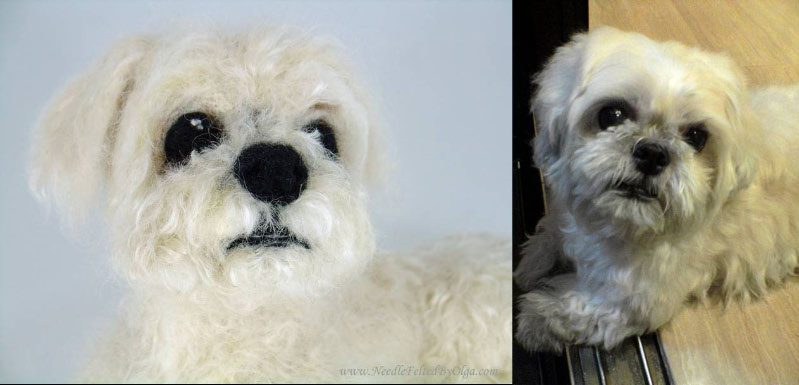 Custom needle felted sculpture of Chubby (Shih Tzu).
Chubby was created using Merino wool and mohair and measures to be 4 x 12 x 6½ inches (13 x 32 x 16.5 cm). For additional views of this sculpture click here.
"He looks absolutely perfect and lifelike! Thank you very much for putting in so much time and effort in recreating Chubby for us... May you continue to touch the lives of all the other doggie owners with your talent!" (Cindy L., Singapore)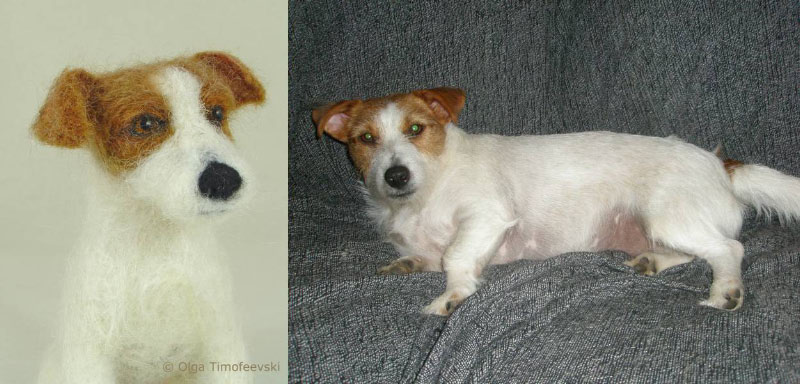 Custom needle felted figurine of Casper (Jack Russell Terrier).
This likeness figurine was made from carded and Merino wool, white mohair fibers, goat's hair, and hand-dyed brown mohair roving. The figurine dimensions are 4 x 5½ x 7 inches (10 x 14 x 18 cm). For addituional views click here.
"It looks exactly like him! ... Absolutely beautiful." (Sylvie R., Queensland, Australia)
Custom dog figurine (left) and the inspiring model, Laina (a pointer mixed breed, right).
The body and head details were made solely of Merino wool by hard needle felting. Sculpture dimensions: 7 x 12 x 8 inches (18 x 30 x 20 cm).
Another custom figurine of (an older) Laina was also created and can be viewed here. These figurines of Laina are priceless possessions of Olga and her family! A picture of the larger figurine (of young Laina), which was the very first needle felted creation by Olga is the logo of this website.
Examples of dog breeds (prior artworks)*
Basset Hound, black Lab, Bearded Collie**, Border Collie**, Boston terrier, Boxer, Chihuahua, dachshund, Dalmatian, English bulldog, German Shepherd (GDS), Golden Retriever, Jack Russell terrier, Maltese, miniature poodle, Pembroke Welsh Corgi, Petit Basset Griffon Vendéen**, pointer**, pug, Rough Collie, Samoyed, Scottish Terrier, Shih Tzu, West Highland White Terrier (Westie), Wire Fox Terrier, unknown breed** (white "fluffy creature"), yellow Lab, Yorkshire Terrier.
*Please visit Homepage for a gallery of felted figurines and links to additional pictures.
**Mixed breed
Return to: Sample Art
If you would like to order a
needle felted likeness
of your dog, please
e-mail
the artist your dog's photos and request details (size, pose, any special instructions).
The artist will respond about project feasibility.
Please keep in mind that a custom dog figurine is not a mirror image of the real dog, but the artist will attempt to achieve a close resemblance.
The artist can make lifelike versions of the dog but can also make toy-like dogs (which are more suitable for children) or miniature dogs for dolls.
You may request for the eyes to be glass or needle felted of wool, and the artist can make almost any accessories you wish.
The price varies according to the size as well as breed of dog. The pricing of each dog will be typically in these ranges:
- Small figurines, up to 4 inches (10 cm) longest side: from $200.
- Medium-sized figurines, 5-6 inches (12-15 cm) longest side: from $325.
- Large figurines, 7-8 inches (17-20 cm) longest side: from $450.
Please note that the amount of details is reduced in smaller sculptures. Some examples: small size - GR puppy, Laina; medium size - Arnold, Mimi, Goden Retriever; large size - Admiral, Frankie, Joy, Lolita, Uggie. Most dogs shown on this website are of medium or large size.
How Long It Will Take to Make a Custom Felt Dog?
It will normally take 2-4 weeks to make a custom ordered needle felted dog, depending on breed and unique features of the individual dog, including the eyes, coat shade, texture and pattern. The artist will quote the price and provide an estimated time for project completion after receiving project details (please request desired size and pose and provide representative pictures of your dog).
Payment, Shipping & Returns
Payment is accepted through PayPal. 50% deposit is required to initiate a custom project. You can pay the balance after you are satisfied with the picture of your dog's likeness.
Shipping can be made worldwide (insured with tracking, such as USPS Priority Mail within the U.S. and Canada and USPS Express Mail International to other countries). Please note that foreign import duties, VAT fees and taxes are the buyer's responsibility.
If there is a reason that you not satisfied with your purchase, you can return the custom felted dog with care (in original shape and packaging) within 7 days at your expense for a 50% refund (the deposit and shipping fee are not refundable).
Copyright
The artist retains all copyright privileges and protections for the custom ordered art, including the image copyright and right to reproduce or create a similar design of the artwork created by this author.
Gift Cards
Gift cards are available.